I make all kinds of steaks but grill, bake/sear. Been watching a lot of Top Chef for years and decided to go for it, and took the plunge..
Bought some 1 1/2 New York, and a few filets mignons.
set the temp at 122 for 1:50 mins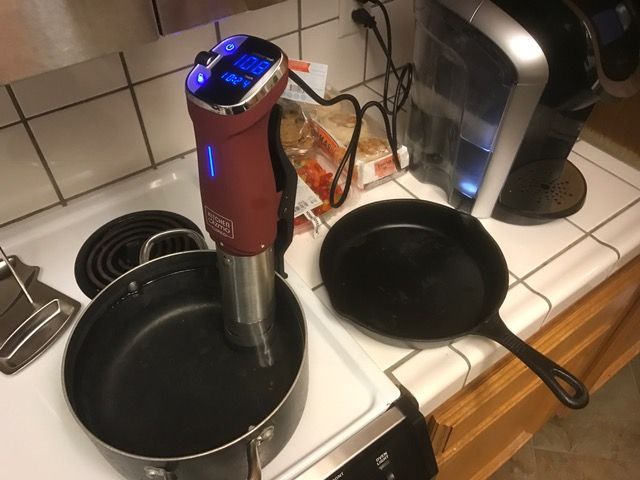 Rubbet it with spices and put a dab of butter on each one, and bagged em. I don't have a vacuum sealer so I just used the
straw and zip lock
trick to seal and remove air, worked quite well actually, and dropped it in.
Came out looking like this, and the meat was so supple I could not believe it. Tthen I dropped it in the pan to sear it (all sides)
Basted it and let it rest for 5 minutes (dropped in a butter bomb with rosemary just after I started searing in olive oil)
It came out like this;
Without a doubt the juiciest piece of New York I have ever had. I cant wait to tray other cuts and pork tenderloin (which is hard as hell to get right).
Oh the filets I just seared and broiled while we were waiting, I got that shit down without the sous vide, but I will try that too.
I know its a lot of typing and gay, but I was pretty amazed at the results, wow. Great investment.